Business First
 Three generations of the Daunhauer family have owned the Byerly Auto Group, located in Louisville, Kentucky. And in another long-standing family tradition, the dealership has made donations to a nearby charity for more than two decades.
The business and the organization, Shively Area Ministries, or SAM, share more than a ZIP code, said Byerly Auto Group president Greg Daunhauer who serves on the SAM board.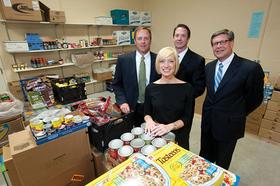 The organization is one of 15 groups that are part of the Association of Community Ministries in Louisville. SAM and the other 14 groups offer food, utilities, prescription medication, rent assistance and other emergency financial assistance to those in crisis or poverty situations.
Employees of the dealership also distribute food at the Shively Area Ministries food pantry and adopt families served there during the holidays by taking up donations of food and money as well as and shopping for gifts. Daunhauer said that 1,653 children and adults were assisted by SAM at Christmas time last year.
The dealership has provided Shively Area Ministries with a van and performs the vehicle's ongoing maintenance and repair at no charge. 
Daunhauer said the good works performed at Shively Area Ministries are numerous and really make a positive difference. Last year, 209 people received helped with utilities, more than 13,000 received food, and 1,420 people received clothing.
Byerly's donation allowed for the expansion of Shively Area Ministries' food pantry to better serve the growing demand for assistance.
For 12 years, thousands of pounds of food were stored off site in an older, three-story farmhouse owned by Shively-based St. Stephen United Church of Christ, said Shively Area Ministries executive director Roxanna Trivitt.

As a result of the dealership's donation, 1,500 square feet have been added to Shively Area Ministries' facility. The new portion features a garage door that allows for unloading food for the up to 50 families per day served by the food pantry.
The fact that the food storage is now on one level is much easier, especially since the new area has a large door to accommodate food delivery and drop off of donations, Trivitt said.
When the organization needs assistance to help others in the community, Byerly Auto Group delivers, Trivitt said. "I just call them a shining example of caring for the community in which they're doing business."