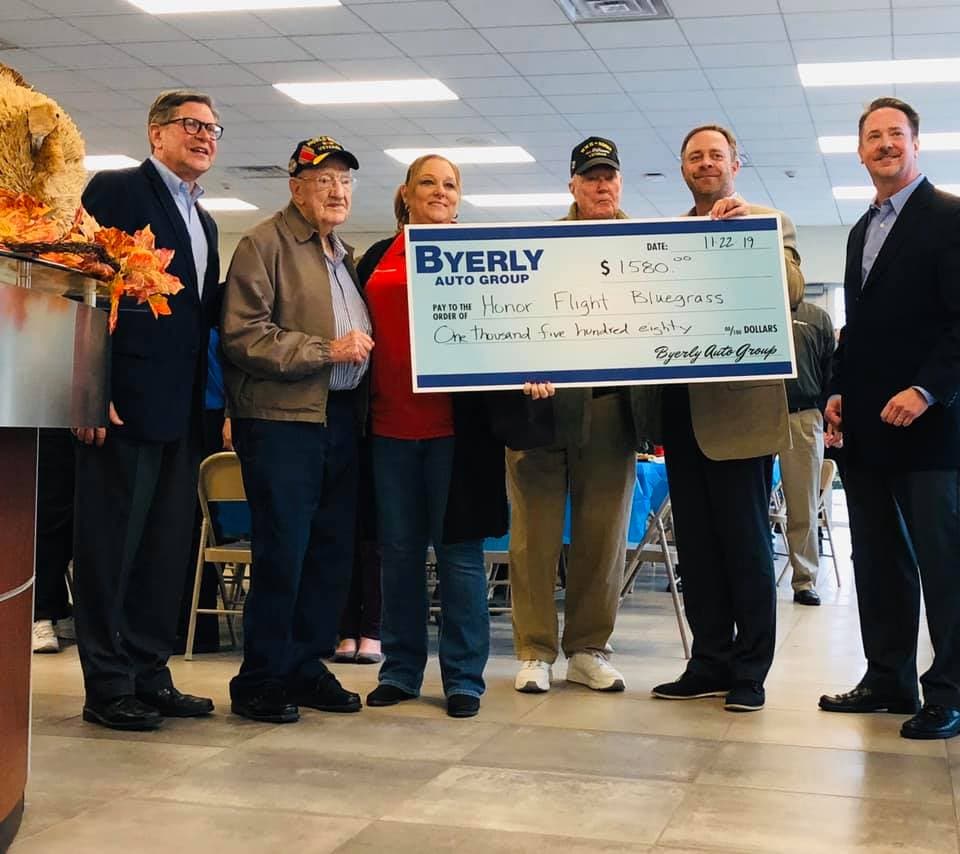 Byerly Nissan is Proud to Serve the Louisville Community
More than just your local Nissan dealership, Byerly Nissan is an active member of Louisville and strives to make the community a better place through sponsoring events and charitable giving.  Spanning three generations, the owners of the Byerly Auto Group are proud to be affiliated with Louisville and its residents.  For more than two decades, the Daunhauer family has made generous donations to a variety of local charities to help support those in need of some assistance.  When it comes to selling cars, we're here to help, but it's our community involvement that's been the backbone of our operation since the very beginning.
Shively Area Ministries
In a statement made by the Byerly Auto Group president, he said that Byerly Nissan and Shively Area Ministries, or SAM, share more than just a local address.  A religious organization that's a part of a widespread Association of Community Ministries in Louisville, SAM offers emergency financial assistance, help with rent, food, utilities, and prescription medication for those in need.  Helping over 1,600 children and adults during Christmas last year, our partnership with SAM is something we're extremely proud of.
Not only did Byerly Nissan provide SAM with a transport van and help cover all its maintenance expenses, but we also aided in helping 209 people pay rent, 13,000 people receive food, and over 1,400 receive clothing.  With help from Byerly Nissan, the Shively Area Ministries in Louisville were able to expand their food pantry to accommodate more residents in crisis or poverty situations.  Adding over 1,500 square feet of storage to SAM's food pantry facility, the donations made by Byerly Nissan have helped propel the expansion of the operation to better serve the growing demand for Louisville residents.
As a result of Byerly Nissan's charitable donations, SAM was able to build a new garage door the Ministries' facility.  Not only is this a monumental upgrade to the building, but it allows for up to 50 families to be served per day by the food pantry.  Louisville residents no longer need to wait days at a time to get food to feed their families.  The new garage door is a huge upgrade that makes it easier for SAM to store and transport food, as well as for families to get food who need canned and fresh goods to feed their children.  It's the little things that matter the most, and Byerly Nissan is proud to be a part of something that's even bigger than ourselves.
Honor Flight Bluegrass
Byerly Nissan is a proud supporter and corporate sponsor of Honor Flight Bluegrass.This nonprofit organization honors veterans by flying them to Washington, D.C. and providing them with a tours of the Word War II, Korean War and Vietnam War memorials, honoring their service and sacrifices. 
Byerly Nissan's Foundation is Centered Around Community Involvement in Louisville
Here at Byerly Nissan, we'd be nothing without our community.  No matter what your financial situation is, we value Louisville and all its residents regardless if you're in the market for a new car or not.  Here to lend a helping hand when you need it most, Louisville residents are always at the top of our minds.  Whether it's finding food to help feed families or putting clothes on the backs of the many children in Louisville, we strive to continue to make a difference in our community.
For generations Byerly Nissan has been an active member of the Louisville community.  Helping families during their time of need is what we'll continue to do to ensure our locale is secure when it comes to the essentials.  Not everyone needs a new or used car, but for those struggling to get by day-to-day, we've got your back as well.  To learn more about Byerly Nissan's community involvement and to speak with a member of our outreach team, please call or contact us online at Byerly Nissan today!  We look forward to meeting you!