Byerly Nissan wins the 2017 Dealer of the Year Award from DealerRater January 27, 2017 - Las Vegas, NV -- The team at Byerly Nissan in Louisville, Kentucky is delighted to have earned a prestigious 2017 Dealer of the Year Award from DealerRater, which indicates broad customer satisfaction.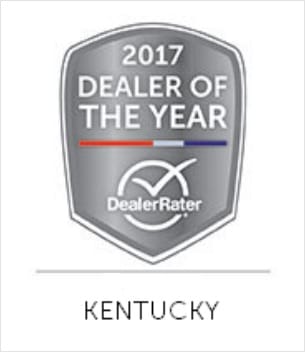 DealerRater has an audience reach of more than 40 million consumers who read more than 3 million dealer reviews.  Each year, DealerRater examines the reviews attributed to hundreds of dealerships throughout the country in order to ascertain which ones have provided the highest level of service to their customers. 

"We are so proud of our outstanding team at Byerly Nissan.  Our passion to provide exceptional customer service is the driving force in everything we do.  We strive to serve all our valued customers with the best products, service and a dedication to excellence that has been the hallmark of the Byerly organization for over 70 years." said John Daunhauer, Vice President of the Byerly Auto Group. 

To qualify, dealerships must have a minimum of 25 reviews on DealerRater.com (including one from each quarter of the year), must not have been blacklisted during the previous 12 months, and must possess a minimum 4-star overall rating.
Once acknowledged to have met these  criteria, each dealership is assigned a PowerScore based on both their average rating and the number of reviews provided. Exceptional entries are given a coveted Dealer of the Year Award. Customers are famously more likely to go out of their way to leave a bad review if they are not completely satisfied rather than supplying a positive one if every need is catered to, so a dealership must rise well beyond the ordinary in order to be honored.

Byerly Nissan has a phenomenal number of shining testaments, the following are just some of the over 347 reviews.
"

We've purchased 3 cars from this dealership. It does NOT get any better. The car buying process is actually painless... which says a great deal about these folks. They are honest, easy-going, and knowledgeable. It's truly a pleasure doing business here."  
"I believe I'm on my 7th purchase at Byerly! No place else to go for a car. With 4 kids (3 driving already), I'm likely to be back again soon! Bob Steffan was easy to work with. Keep up the great work."



Byerly Nissan emphasizes customer care over traditional, high-pressure sales tactics. As a result, people from all over Louisville and the surrounding communities return to them again and again for all of their automotive needs.
Byerly Nissan is located at 4027 Dixie Hwy, Louisville Kentucky, and is part of the Byerly Auto Group of Dealerships.