NISSAN@HOME
In today's fast-paced world, your time is more valuable than ever, which is why features like NISSAN@HOME are ideal for your busy lifestyle. Thanks to tools like NISSAN@HOME, you can shop from the comfort of your couch or home office and enjoy a convenient shopping experience unlike any other. On top of it all, you can also schedule Nissan maintenance online and we'll handle the pick-up and drop-off of your delivery. Curious to learn more about SHOP@HOME, BUY@HOME, DRIVE@HOME or SERVICE@HOME? Chat with the team at our Nissan dealership in Louisville and we'll walk you through every detail. Let Byerly Nissan provide you with a truly VIP and hassle-free experience!
What Is NISSAN@HOME?
If you prefer to shop online through a streamlined virtual experience, you'll love NISSAN@HOME. This tool allows Kentucky Nissan fans to buy a car online, schedule Nissan service and more, all from their phone or computer without ever having to step foot in a dealership. Easy right? Other tools within NISSAN@HOME that are available to you include: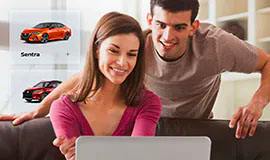 SHOP@HOME
Are you shopping for a new Nissan Sentra for your daily commute? Or, perhaps you're in the market for a used Nissan Pathfinder or Certified Pre-Owned Rogue in Louisville? With SHOP@HOME, you can browse our inventory online and initiate the first steps of buying or leasing a Nissan model of your choice, all online!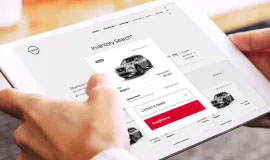 BUY@HOME
After you've found your ideal Nissan model, it's then time to explore Nissan financing plans, specials and lease incentives. With BUY@HOME, you'll get accurate pricing and a proposed payment plan that fits with your budget. This way, you can wrap up the car-buying process while you're cozy at home.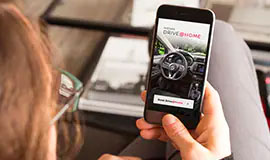 DRIVE@HOME
Are you looking for that first-class car shopping experience that makes it easier than ever to test-drive your ideal car? With DRIVE@HOME, we deliver your desired vehicle to your home so you can test-drive it without ever having to go to the dealership. This way, you can drive it around your neck of the woods and see how it feels behind the wheel!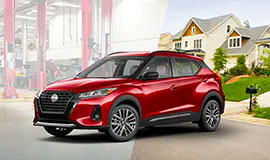 SERVICE@HOME
Are you looking to schedule a Nissan oil change nearby, but can't find the time?, It's easy to schedule Nissan service in Kentucky with SERVICE@HOME as it allows you to juggle everything without missing a beat. A member of the Byerly Nissan team will come pick up your car for you, complete the needed service, and bring it right back to you when everything is completed.